Whether you are looking to break into a technological field or you are an established market force, patent landscaping can provide a clear, commercially-focused overview of your own Intellectual Property (IP) assets and your freedom-to-operate within the wider market.
Understanding your IP assets
Using landscaping, we can plot your existing Intellectual Property portfolio onto visually intuitive maps, highlighting areas that may reflect the commercial impact of your IP, alerting you to opportunities and issues, and helping to simplify the management and evaluation of your portfolio.
Using a creative and flexible approach, we can present results in a manner that is appropriate for use across your organisation, or for presenting as an executive summary to stakeholders, potential investors and third parties.
Understanding third party IP assets
Looking beyond your own portfolio, landscaping provides a valuable tool for identifying your business position within your chosen markets. We can help you to analyse your competitor activities, assess how your activities compare to theirs, and even identify potential collaborations, acquisitions or licensing opportunities.

Being aware of your freedom to operate helps to reduce your risk of infringing others' rights, determine whether pathways to market are clear, and inform your commercial decisions. Landscaping expands on traditional freedom-to-operate searches that aim to uncover intellectual property rights that are currently in force. We analyse existing third-party intellectual property rights with a fine-toothed comb and collate this analysis to build-up a more complete picture of the market.

What can we provide?
Our aim is to understand your business needs and we tailor our landscaping analysis according to your interests and commercial goals. Whether you are seeking to gain a better understanding of your own portfolio, the global market picture, or where you sit within the global market, analysis may involve the following aspects:
Plotting rates of change of innovation;
Identifying and mapping key sectors of the market and identifying the growth and trends within these;
Mapping the global market picture, identifying geographical clusters and hotspots;
Identifying key competitors and analysing competitor activity;
Assessing risks and potential needs for action; and
Predicting future trends, threats and opportunities.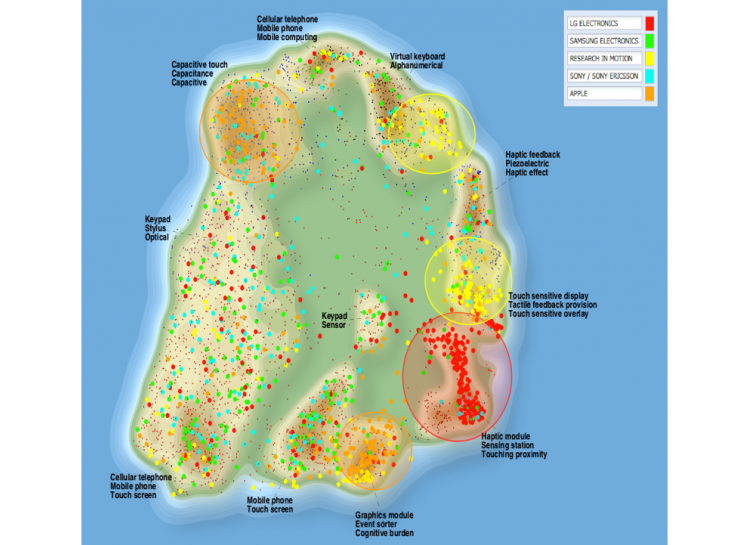 The results of a landscaping project can inevitably be complex and we recognise that clarity is key in delivering results that will be useful to you. We use a flexible range of visual and written presentation techniques to report the results, ensuring that we capture the detail, whilst keeping the key facts that you need to know at the forefront.
If you would like to know more about our patent landscaping services, please get in touch.